Sino-Asia Pharmaceutical Supplies Limitedwas established in 1992. We are a distributor of: pharmaceutical products andhealth supplements. We work with pharmaceutical and healthcare productsmanufacturers across the globe: in North America, Europe, Australia and Asia,to develop their market in Hong Kong, Macau and Mainland China.

With 30 years of experience in distributionof pharmaceutical and health products in Hong Kong, Macau and the Mainland,Sino-Asia Pharmaceutical Supplies Limited has gradually built up a goodreputation, deep confidence and trust among the medical and health communitiesin Hong Kong, as well as with our principals and our clients.
This year is very important to all of us aswe are celebrating our 30th Anniversary. 30 years ago, we started the companyin a small flat with 3 people working on promotion and selling the medicalproducts at hospitals and chained pharmacies. Time really flies, after 4 yearsin business there were big changes in our product mix and we began to move intothe sales of innovative drugs for treatment of cancers and new concepts inimmunotherapy. All these new ideas and products have given us new insight intohow our company should be heading toward. Now, we are looking into newopportunity of collaboration with new drug developers and biomedical researchinstitutes. We are hopeful that our company would bring in new medical productsinspired with new technologies into the market for the benefits of patients whoare in special needs.
Last but not least, in our long journey ofbusiness development we are very much count on support of reliable counterpartsfrom overseas. They are of excellent credentials and with accredited serviceswhich are recognized by Health Regulatory Authorities abroad such as MHRA, TGA,Health Canada, EMC and USFDA.
OUR CORE VALUES
Standards: which are never static,commensurate with our being a dynamic, fast-growing company.

Achieving results: our goals are set inconsultation with our principals as well as our people.

Partnership: both within our company andwith our external players.

Social responsibility: towards ourcommunity, but first our own employees and their families.
 
OUR OPERATIONS
Import and export

Strategic market planning and forecasting,using state-of-the-art economic models

Consulting services

Product promotion and sales

Product packaging, re-labelling andwarehousing

Product logistics

Sales reporting, analysis and forecasting

Sponsorship of health events, professional conferencesand trade shows

Customer services: special deliveries,product detailing, training on use of special products
 
OUR CLIENTS
Over the past two decades, our client base has continually been growing.Currently, it covers the following:
Medical doctors and the other healthcareproviders (pharmacists, opticians, etc.)

Medical institutions (hospitals, clinics,convalescing homes, etc.)

Supermarkets, china stores, dispensaries,drug stores, cosmetics and health food shops

Other supplies (retails, wholesale orimport/export) of medicines, medical and cosmetics consumables, and healthsupplements.

Others: old people's homes, medicallaboratories, beauty parlous, etc.
 
OUR PEOPLE AND EXPERTISE
Our general expertise is to introduce newproducts into the market in Hong Kong, Macau and Mainland China. These marketsare growing at phenomenal rates, reflecting the rising affluence of thecommunities. Our experience and knowledge of these markets enable us assisteffectively overseas manufacturers to expand their businesses, particularlyusing Hong Kong as a stepping stone.
Our special expertise is in helping ourclients to source hard-to-find branded drugs, orphan drugs and niche products.We only have one condition: that such products must come from reputable andreliable manufacturers and suppliers. For this purpose, we have established anetwork of such manufacturers and suppliers with whom we deal regularly. Inparticular, we have been in association with several multinationalpharmaceutical manufacturers in making available for Hong Kong innovative drugswhich have been registered overseas (by FDA, EMA, etc.) but not yet registeredin Hong Kong.
Our team of multilingual colleagues arefully trained, conversant with the products we handle, constantly keeping aclose watch on the over-evolving market situations of these products, and mostare experienced in understanding and meeting the needs of our clients.
Our sales colleagues are fully trained anddedicated, and are deployed to cover the full cycle of clients locatedthroughout Hong Kong, in accordance with pre-established itineraries.
Our in-house logistics team works in closeunison with colleagues providing office support and with the sales colleagues.Our performance pledge is that all orders are delivered at soonestpossible.  
 
OUR OFFICE
Located in Chai Wan, at the east end of Hong Kong Island, our office is newlyrefurbished (2013). It is fully equipped with state-of-art technology, in whichwe provide a rapid, reliable and discreet service to all our clients bothlocally and abroad, and from which our sales force go out daily to interactwith our clients.
 
OUR WAREHOUSE
Also located in Chai Wan, our warehouse is also newly refurbished (2013), with24-hour temperature-humidity, pest-prevention, fire prevention and securitycontrols. Separate areas are provided for the warehousing of pharmaceuticalproducts, non-controlled pharmaceutical products, medical and cosmeticconsumables and health supplements. Specific areas are also dedicated to the storageof quarantined goods, goods awaiting dispatch to clients and goods awaitingdisposal. The warehouse complies fully with the regulatory requirements of theHong Kong SAR Government.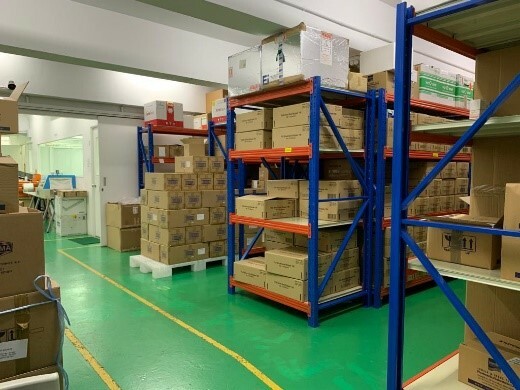 PARTNERING OPPORTUNITY WITH US
China, including the two Special Administrative Regions Hong Kong and Macau, isknown to be the fastest-growing region of the world. This is not only now, butis expected to last a few more decades.
The rising affluence of the people means the search for a better quality oflife. This includes the search for better healthcare and personal careproducts.
If you are considering expanding your market in China, Hong Kong and Macau, weshall be happy to provide you with further details.
Please contact us and let us know about your products, your plans and yourdreams.
We shall be happy to work with you to make them come true.